Majestic Theatre
2849 Gretna Rd.
Phone: 417-222-4499
Absolutely Country definitely Gospel
3/1/2022 – Rich Turcott – This show is one of the hidden gem in Branson.  The first half is classic country, second half is southern gospel.  Three top talents execute flawlessly.  Jonathan and Deana Edward's, along with Lee Hendrix on keyboard and singing, form a group that is must see.  A rousing tribute to the Flag, will make you proud and bring tears to your eyes.  Go to the majestic theater off the strip.  This show will be a hi-light of your time in town.
4/27 – Jason Cragg – When  I think about Branson, I think of warm, friendly people who are eager to share a smile, shake your hand and welcome you at anytime.  People who are genuinely thrilled you chose to share your time with them.  Combine that with World Class Pianist Lee Hendrix, the melodious tones of Jonathan Edwards and the beautifully wide ranging alto to soprano of Deana Edwards, and you have Absolutely Country, Definitely Gospel.  The rich heritage of country music is beautifully intertwined with Soul lifting, heart affirming gospel.  I left with my toes tapping and my hands clapping from the Hymnal tunes that raise my spirits and the country sound that built this town into the welcoming city it is.  Great night, thank you so much!
5/16/2022 – Michael Wackerly – Dynamic trio of Jonathan, Deanna, and Lee form "Faiths Journey" the stars of this show. The first half is wonderful classic Country music, the second inspiring Gospel songs that for sure will bring some joy to your heart. Fantastic vocals and harmonies fill this intimate room at the majestic Theatre. Get out to this show and make yourself happy.
Doowop and the Drifters (The Ruby Room Theatre & Lounge at The Majestic Theatre)
See Ruby Room Theatre at The Majestic Theatre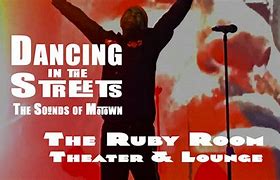 #Dancing in the Streets - Ruby Room Theatre
See Ruby Room Theatre at The Majestic Theatre
3/17/2022 – Phil Cragg – Absolutely enjoyed the Son's Music Celebration show this morning.  Really great for us old timers, but the vocals and harmonies are very tight as new boots. They are really that good!  Southern Gospel songs are so inspiring. Don't know if anyone could ever leave this show without being very uplifted. 
4/23/2022 – Rich Turcott – The Majestic Theatre hosts another off the strip GEM.  The Sons started at Silver Doller City in the early 2000's.  Their show combines the great harmonies of 3 excellent singers.  Barry, RIch and Tom covers many great hits and a lot of fun songs too.  You will hear songs from the old TV westerns like, Rawhide and Bonanza.  This is a fun show with three forces that blend together.  Head off the strip, see the SONS.
4/30/2022 -Jason Cragg – I don't know about the rst of you, but getting up early is not really for me.  That being said, i had heard "rumblings" about a show i needed to see.  I an so very pleased i was able to be witness to this amazing trio!  Tom Johnson, Rich Watson and Barry Arwood, comprise this amazing group.  The Sons Music Celebration is a celebration indeed!  Strap in for a 90 minute thrill ride which will spin you through avenues of music you never knew existed, but will want to experience again(can you say "Beach-Grass").  For a different kind of family friendly experience, your young ones will be laughing for months and trying to remember the lyrics to the "pun" song, The Mississippi Squirrel Revival, and Acoustic sessions which reach deep inside sprinkle some amazing Gospel and you have a show that anyone for 4 – 90 can truly enjoy.  You will leave more energetic and ready to experience everything Branson has to offer than if you had triple espresso of you choice!
4/30/2022 – jim kast – Let the force be with you.  That what you have with these 3 very talented men, Barry, Tom and Rich.  Each can stand on their own and together their sound is unbelievable.  Their harmony is second to none.  They cover country and gospel.  If you want to hear great harmony, this show is for you.
Milsap - Almost Like A Song
4/5/2022 – Jason/Joy Cragg – For me Ronnie Milsap was the soundtrack of my formative years.  Lee Hendrix does a masterful job bringing those magical memories to the forefront in Milsap – Almost like a song.  Joined by Deena Edwards and Rich Watson, the rich vocals reach to the heart of the legendary performers immense impact in Country Music.  So grateful for the experience of reliving all the memories!  Thank you Lee, Deena and Rich.
4/20/2022 – Rich Turcott – Lee Hendrix and Deana Edward's take you on a song filled and historical journey of Neil Sedaka.  Not only were their voices spectacular, the history of Neil is super interesting.  The singers he wrote for and influenced will amaze you.  Take a journey off the strip, to the Majestic Theatre and see this award winning show.
5/18/2022 –  Michael Wackerly – Lee Hendrix and Deanna Edwards guide you through the Neil Sedaka catalog of hits. Very enjoyable and very informative look into Neil Sedaka's hits and life. Fantastic stage chemistry in this intimate setting sets the mood, as Deanna and Lee bring the music and legendary career of Neil Sedaka, and the songs that Neil had written for other superstars, back into the spotlight where they belong. Fantastic show!!
4/22/2022  – Rich Turcott   – This is the funniest show in Branson!  It starts with a very good buffet dinner.  About 12 audience members volunteer to be in the show.  What ensues is a cast of Wild West Characters trying to figure out the murder.  You will laugh, as much of the lines are adlib and sooo humorous.  Make plans for dinner and a show.  You will not be disappointed. 
5/14/2022 – Jimmie Folse – Everyone is part of this hootin', hollerin', gun shooting (not real), bell ringing, musical, action-packed murder mystery. Get on your detective hat to solve the hilarious, "Murder at the Town Vote." Get your 15 (or less) minutes of fame by becoming a cast member without leaving your seat. The show boasts a crazy, quick-witted, highly animated cast that takes audience interaction to a new level. Great improvisational skills are on full display. No two shows will be alike.  Great fun filled afternoon!