IMAX LIttle Opry Theatre
3562 Shepherd of the Hills Expy
Phone: 417-335-4832
5/6 – 2022 –  jim Kast – Shoji Tabuchi is back!  This intimate show showcases Shojis amazing talent on the violin, and premiere showmanship, that has earned him 20 plus trips on the Grand Ole Opry. Joining Shoji on stage is his daughter Christina Lingo Tabuchi with her dynamic vocals.  Making this a very enjoyable evening. Backed by an orchestra come see why this is a top ticket in town.
5/13/2022 – Michelle Folse – A great nostalgic Frankie Valli and the Four Seasons tribute. The story of the Jersey Boys is told by the talented singers and their versions of "Sherry," "Big Girls Don't Cry," "Rag Dolls".  Dancers, costumes, and sets round out this lively trip through their top of the '60s, '70s, and '80s.  A sprinkling of comedy will bring additional smiles to you and your family. Don't miss this highly entertaining and fun show!
4/5/2022 – Phil Cragg – The Petersens have called Branson home for several years now and have seen many live shows through the decades all over the Midwest.  This is as tight as any I've seen in any venue, especially as great as even the most uplifting Southern Gospel groups i have ever enjoyed.  If you love beautiful harmonies and subtle humor, Do Not Pass this extremely talented and entertaining family  by.  Tulsa Time, Blue, and Beulah Land are knockouts!  If I could adequately compare this music to another Dove or Grammy winning family, it would be the "Issace".  However, I personally believe the acapella vocals here are even better.  Their bluegrass sound is smooth as silk and never seedy.  The sound mixing is dynamic with vocals and instrumentation wrapping the perfect and clear voices as well as in the studio.  It's so true that this one is the very best individual live group I've ever seen in Branson… Ever.  This is a super show of amazing people who have their hear and soul in the right place.  They have a great website plus YouTube channel which I watched for hours and seeing this performance.  If you love live music as well as I, please put this show at the very top of your list!!
4/21/2022 -Rich Turcott- Dalena Ditto is the consummate entertainer.  Her powerful voice and exquisite costumes lead you on a musical journey through Country Music.  Backing her up is a talented band featuring Dino Struck and Eric Green.  Take a trip off the strip and see this magnificent entertainer bring many artists to life.
4/29/2022 – Jim Kast – The word "Dynamic" best describe Dalena Ditto.  She shows varying levels of volume of sound in different parts of her performance.  Powerful voice.  She takes you on a journey of Country music from the beginning to present time.  She does comedy for a person who wears a "rice tag" hanging from her hat that will keep you laughing.  She is back by a talented band, "The Boys".  Two of the band members perform solo songs.
3/18/2022 – Phil Cragg – The Son's of Britches was a great show.  Unconventional & Hilarious for sure.  The Son's will have the audience going with their requests and then do most of their performance from there.. never really knowing where the show will go.  Music is great, off the cuff and these veteran comics are a real hoot. I laughed and smiled for he entire show, no intermission,90 minute time.  Very much a feel good bunch. full of  laughter, whoops & hollers.  Even a state fiddle champ can play his "britches" off… well not really.  Highly recommend these gentlemen for clean family fun.
4/21/2022 – Rich Turcott – Delena Ditto is the consummate entertainer.  Her powerful voice and exquisite costumes lead you on a musical journey through Country Music.  Backing her up is a talented band featuring Dino Struck and Eric Green.  Take a trip off the strip, and see this magnificent entertainer bring many artists to life.
5/13/2022 – Jim Kast – What a joy this show is, the trio take requests from the audience in any genre and put their spin on things. Which usually ends up in some hilarious moments. Louis provides the fiddle music that shows he's one of the best in town, earl puts down some mean guitar licks and David shows you how to thump that upright bass. A show for the entire family.
6/25/2022 – mike porter                                  Sons of Britches
Totally different take on any show in Branson where the audience dictates what songs are played. Show starts by the guys asking for requests and you get their take on them, some turn out hilarious. Great musicians make this a very entertaining show.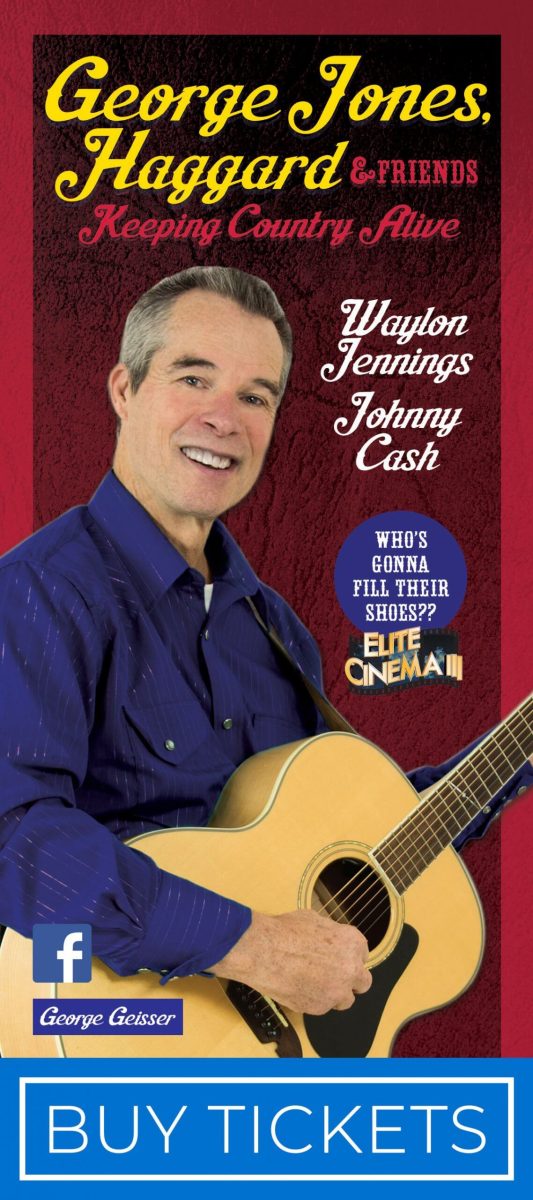 George Jones Haggard and Friends
4/23/2022 – Phil Cragg – George Jones and Friends was a very energetic, enjoyable show. Starring George Geisser. They take request so every show will be different. George and his band are excellent instrumentalists. Everyone has a wonderful voice, and a lot of humor was in the show. George gave the history behind the songs and the artist. Keep my attention every second of the show. Very good impersonation for each artist he did. The Little Opry Theatre has a wonderful show in this one.
5/1/2022 – Michelle Folse – Up-close and personal best describes this intimate venue. George Geisser lead this 4 member group through an entertaining set of old school country and Bluegrass. The performers take sone requests from the audience, making each performance unique. Sit back and relax in this casual atmosphere as you hear familiar and maybe not so familiar tunes.
5/8/2022 – Jones, Haggard and Friends
Old school country and Bluegrass are what this show is about, the music of George Jones and his friends. Haggard, Cash and Willie are a few highlighted. George Geisser leads this fantastic group of entertainers on stage, joining George are Forrest Herzog, Justin Herzog and Hilary Carroll making this a show you must put on your Bucket list.
Jim Kast
6/12/2022 – mike porter
Imax has a very entertaining show with George Jones and friends, Led by George Geisser this fantastic group of entertainers will provide you with a wonderful afternoon of classic country and bluegrass music that will have your toes tapping and singing along.
Rick McEwen - Presents The Gambler
6/27/2022 – mike porter                                 Rick McEwen presents the Gambler.
Kenny Rogers at its finest, great vocals and the appearance assure that you are at a Kenny Rogers concert. Sit back and enjoy as Rick goes through the Kenny Catalog. Fantastic tribute to the Gambler
4/22/2022 – Rich Turcott – A truly unique Branson experience.  This show combines Gospel Music, Comedy, and theatrics into a funny and inspiring show.  The cast is very talented.  I must say, JUNE steals the show.  The antics take place in a rural Baptist Church.  The story that ensues has all ages laughing and singing along, plus you will throw in a few AMENS as needed
4/30/2022 – Michelle Folse – Can't think of a better way to start a day in Branson.  This light-hearted musical comedy is set in North Carolina in 1938 at the Mount Pleasant Baptist Church.  Get your Amens ready and be prepared to become a member of the congregation, as the audience is occasionally brought into the show and encouraged to sing along to classic Gospel songs.  All the performers really capture each character's personality, with June stealing the show.
5/14/2022 – jim kast – This wonderful play takes place at the Mount Pleasant Baptist church. This is a new cast this year and they don't disappoint, fantastic voices in all the cast, and are fantastic musicians. Never a dull moment this show is a fantastic family show for all ages. You will leave much more happy and ready to take on the day.
6/25/2022  – mike porter                                  Smoke on the Mountain
Fantastic production, very funny lighthearted recreation of events that happened at the Mount Pleasant church in 1938. Great Gospel hymns. A very uplifting morning for sure. Can't miss this one